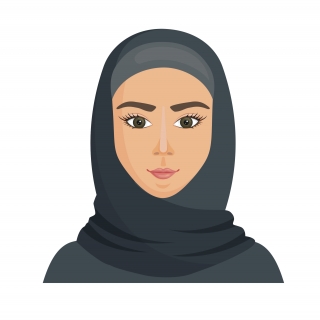 Ustada Abir Ashraf
Quran Teacher, recitation and memorization
Assalamalikum I am Alima and mualima i have experience above 10 years of teaching I am teaching via Skype or zoom
English
,
Arabic
,
Hindi
,
Sindhi
,
Urdu

Bio
As
focus on character building as a Muslim and for my clients, I aim to improve their Quranic recitation, Undertanding, Namaz and Ahadith.
I teach a wide variety of Surahs and Duas for e.g Before sleeping, When waking up, Before and after eating and drinking and many more.
I teach ladies and children for Tajweed, memorization and recitation of the Quran.
I am an Alima and a Muslima, with more than 10 years of experience in teaching the Quran, Islamic rules and Shariah.
My aim is help my clients with their recitation and implementation of the Quran.
Suggested Price Package: Funerals: Ghusal & burial within 50km radius of current location in Karachi. $50 excluding travel expense
Service Areas: Al-Qur'an Studies - Memorization, Tajweed & others, Arabic Language, Coaching, Leadership & Mentoring, Sustainable Living, Family: Child Minding,
Suggested Price Package: Weekend/Event package: Book a session on the weekends,
Assets
Languages
English
Arabic
Hindi
Sindhi
Urdu
Services
Islamic Services
General Counselling
New Muslims & Shahada
Islamic Studies
Arabic Language
Childhood Islamic Education
Qur'an Studies - Memorization, Tajweed etc.
Arabic Language
Seerah & Storytelling
Five Pillars of Islam
Hadith Lessons
Islamic Manners & Etiquette
Denominations of Students