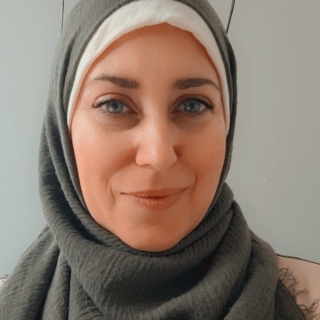 Diane Akkad, BA. Psy. LHC.
Integrative Health and Wellness Practitioner
The Doctor Diagnoses but Allah (swt) gives Prognosis! Guiding you through your diagnosis to healing inside and out.

Bio
As Salamu Alaikum,
My life has always been about helping others such as providing income support, advocating for the homeless to gain a second chance at housing, working with children who have autism, and selective mutism. I currently work as an Early Learning Child Care Educator in an Islamic Preschool as well as helping women heal, recover, rediscover their best selves after life changes like illness, divorce, having children, and more.
I was diagnosed with Cervical Dysplasia in 2016 and was given the one option of surgery as a solution! After seeking a few other opinions, I realized I needed to look elsewhere for solutions that led me deeper into Islam and alternative healing methods. I went to see a Naturopath who provided me with a variety of healing modalities that I could choose from to suit me best. From heading to Cervical cancer to completely healed!
"And when I am ill, it is [Allah] Who cures me. Surah ash-Shu'ara Ayah 80
Abu Hurayrah (ra) narrates a hadith in which the Prophet (pbuh) said, "Allah(God) did not send down a disease without having sent down its cure". Allah (swt) has created remedies before diseases.
Assets
Education
B.A. Psychology
Nickerson Institute of Integrative Health Training
Early Learning Child Care Supervisor
Work experience
Edmonton Islamic Academy
Integrative Mental Health & Wellness
Support Through Housing Team
Government of Alberta
Awards
Executive Contributor for BRAINZ Magazine
Services
Psychological Counselling
Comprehensive Family Support
Stress/Time Management
Motherhood Support
Life Counselling
Denominations of Students