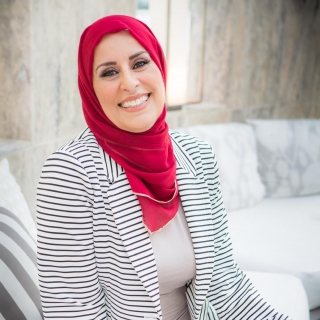 Estela Rodriguez Jebril, LCSW
Clinical Therapist and Transformational Coach
Change Your Habits, Change Your Life

Bio
Estela Rodriguez-Jebril, is a licensed clinical therapist, a certified Aafiyah Energy Practitioner and the Muslim Sex Coach. As the founder of the Passionate Muslimah Academy, she runs a 12-month intensive yearly program and she is committed to help her clients see consistent, measurable, and rewarding results in all areas of life. She received her Bachelors in Human Development with an emphasizes in counseling and has earned a Masters in Social Work with an emphasis in neuro-linguistic psychology and behavioral therapy.
She has 15+ years of experience working with women, couples, children and adolescents who struggle with emotional issues to understand the root of their pain and trauma. She has been able to successfully help her clients experience transformation after trauma, resolve issues and begin to live peacefully in the present moment.
Her coaching works because she gives clients tangible, applicable and sustainable strategies specific to their needs. She teaches self-accountability with empathy and compassion.
Nationality
Mexican-American
Assets
Education
BA in Human Development with Emphasis in Counseling
Masters in Social Work
Work experience
Working as a Counselor and Therapist with State Agencies
Private Practice as a Therapist and Coach
Services
Psychological Counselling
Post-Marital Counselling
Pre-Marital Counselling
Marriage Growth
Comprehensive Family Support
Anger Management
Stress/Time Management
Anxiety and Depression Counselling
Teen Mentorship
Motherhood Support
Denominations of Students