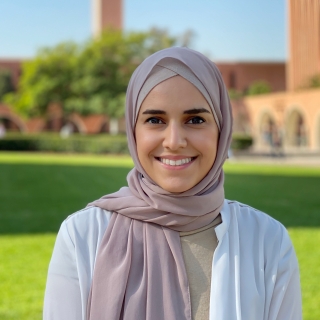 Dr. Ghena Alhanaee
Education, Research
Doctor of Philosophy, University of Southern California

Bio
*Please direct message for a custom appointment time*
Ghena is an engineer and researcher in the field of civil and environmental engineering. She received her MS in Energy Resources Engineering from Stanford University and her PhD in Civil Engineering from the University of Southern California. 
Her research work has gained international recognition, receiving global awards including MIT Technology Review's 2020 Innovators Under 35 Award. 
She has mentored students looking to pursue a career in STEM, advising them through their application processes, and throughout their academic trajectories. 
Ghena is also passionate about continuously learning about Islam, diving deeper into understanding Tafsir of the Quran, and sharing what she learns online with others, including through weekly sisterhood sessions and various events and content posts. 
She enjoys working with students and young adults to facilitate connecting deeper to their faith and optimizing their productivity.
Assets
Education
PhD, Civil Engineering, University of Southern California
MS, Energy Resources Engineering, Stanford University
Awards
MIT Technology Review 2020 Innovators Under 35 - Global
MIT Technology Review 2019 Innovators Under 35 - MENA
Services
Childhood Islamic Education
Arabic Language
Seerah & Storytelling
Five Pillars of Islam
Hadith Lessons
Islamic Manners & Etiquette
Psychological Counselling
Denominations of Students