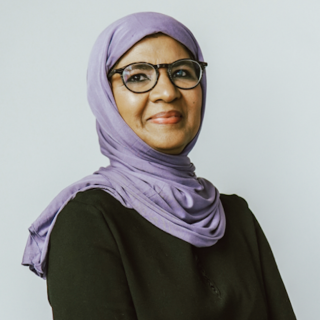 Samina Uddin
Professional & Personal Coach
Helping women in Career transition, Relationships, and finding life balance and fulfillment.

Bio
I help high achiever women grow to their full potential, establish meaningful relationships and reach their personal and professional goals so they flourish and live with a sense of fulfillment.
I will coach you through thick and thin if you have a sincere desire to remove what is preventing you from making your dreams come true.
We will use concepts from Positive Intelligence and Emotional Intelligence to discover your individual strengths and work through your fears and limiting beliefs. 
Here is what one of my clients had to say: 'Taking 10 life coaching sessions with Samina Uddin was a life-changing experience of my life. I always wondered why some people are so successful and satisfied in their lives. Throughout those 10 sessions, I learned to believe in myself and my capabilities. I identified the weaknesses that were holding me back and rediscovered my strengths that were lost in the long run. I was finally able to plan and organize my life and my career accordingly. I am very happy that I met such a pleasant and highly motivated coach that proved to be one of the best things that happened to me during the time of the pandemic.' Darakhshan Ahmed
Nationality
Canadian-Pakistani
Assets
Education
BA in Human Relations
Certified Professional & Personal Coach
Certified Social Emotional Intelligence Coach
ACC (Associate Certified Coach) from ICF (International Coach Federation)
Work experience
>500 coaching hours
Coaching one-on-one and Groups on Relationships & Emotional Intelligence
Services
Psychological Counselling
Post-Marital Counselling
Pre-Marital Counselling
Stress/Time Management
Teen Mentorship
Life Counselling
Denominations of Students