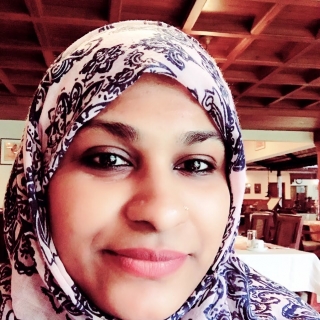 Coach Seemala Fathima, ACC
ICF Credentialed ACC Coach
Islamic Life Skills Coach & Youth Mentor
English
,
Hindi
,
Tamil
,
Urdu

Bio
Seemala Fathima (aka Seema Azmath) is the founder and CEO of Level 10 Muslimah Life Coaching (2016). She co-founded and volunteered as an Islamic Counselor at the community service program called 'Solace Islamic Assistance' (2014-2015). She is an avid journaling enthusiast and incorporates various journaling exercises and activities in her coaching to maximize the transformation process.
The focus of her coaching practice is on Islamic spirituality and implementation of the Deen through the proficiency of the coaching methodology weaving it with authentic Islamic principles to arrive at the crux of connecting with the Nafs, innate self-awareness and self-discipline to live a life of meaning, contentment and tawakkul with the Qadr of Allah.
She runs the 'Nafs Connection Group Coaching Program' as well as works with clients on one to one basis providing a personalized coaching experience, customized to the clients need.
Country
United Arab Emirates
Video Presentation
Assets
Education
Bachelors in Psychology, University of Madras
International Coaching Federation [ICF] Credentialed ACC Coach
Certified Professional Life Coach, 3D Coaching Academy
Work experience
Level 10 Muslimah Life Coaching, Founder & CEO [2016-Present]
Nafs Connection Podcast, Podcast Host [2018-Present]
Enlightened Hearts Collective, Co-Founder & Islamic Spiritual Life Coach [2018-2019]
Solace Islamic Assistance, Co-Founder & Volunteer Islamic Counselor [2016-2018]
Ar-Rajaa The Hope Islamic Counseling Services, Volunteer Islamic Counselor [2014-2018]
Services
Childhood Islamic Education
Islamic Manners & Etiquette
Psychological Counselling
Post-Marital Counselling
Pre-Marital Counselling
Marriage Growth
Anger Management
Stress/Time Management
Anxiety and Depression Counselling
Teen Mentorship
Motherhood Support
Life Counselling
Denominations of Students